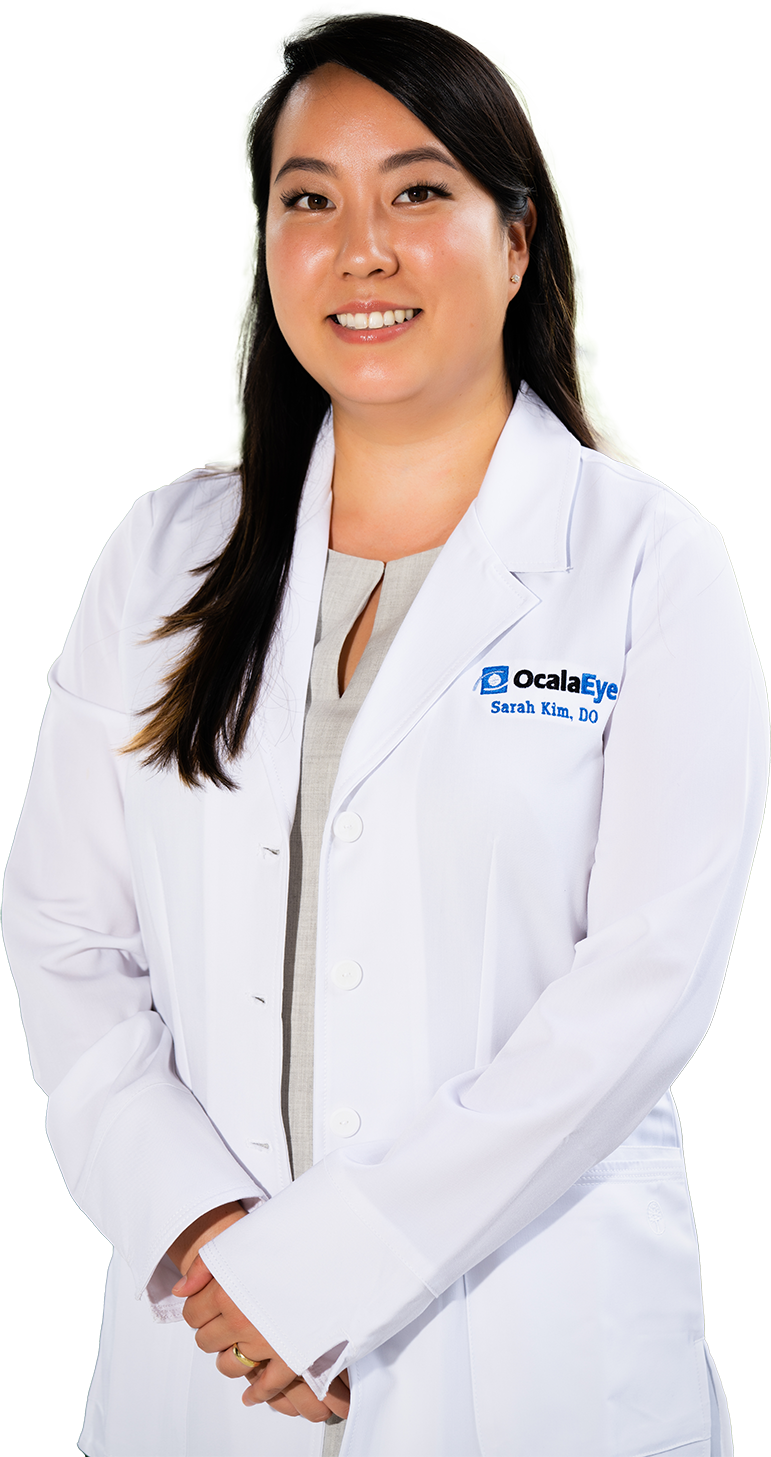 Meet Dr. Kim
Sarah Kim, D.O., M.P.H.
Sarah Kim, D.O., M.P.H.
Specializing in Cosmetic Eyelid Surgery & Eyelid Reconstruction
Sarah Kim, D.O., M.P.H., is an oculoplastic surgeon who has been at Ocala Eye since 2018. She specializes in the cosmetic and functional repair of eyelids and eyelid reconstruction after trauma or skin cancer removal. She also removes growths, skin tags, and cancer from eyelids.
Dr. Kim received her B.A. in biochemistry from Occidental College in Los Angeles, CA, and went on to pursue a dual degree in public health and medicine at the College of Osteopathic Medicine at Touro University California. She then completed an internship and ophthalmology residency at Arrowhead Regional Medical Center (ARMC), followed by a fellowship to further specialize in eyelid repair and reconstruction in Stockton, CA.
Among her professional affiliations, Dr. Kim is a member of the American Academy of Ophthalmology, American Osteopathic Colleges of Ophthalmology & Otolaryngology, American Osteopathic Association, American Academy of Cosmetic Surgery, and the Florida Medical Association.
Outside of work, she enjoys spending time with her husband and her two dogs. She also has a passion for medical missions and has served on various trips to the Dominican Republic, Guatemala, and Ethiopia.
Central Valley Eye Medical Group | Stockton, California
San Bernardino County's Arrowhead Regional Medical Center (ARMC) | Colton, California
College of Osteopathic Medicine at Touro University California | Vallejo, California
Occidental College | Los Angeles, California